This is my tree.
I try to take a morning walk walk along the Blackstone River Bike Path. Every day there are changes to see if I listen and watch the world around me.
Every morning I walk I check on my tree.
This tree has become an inspiration to me. It survives every condition that nature throws at it. It survives floods, drought, heat, freezing cold, rain, snow and hail. It survives everything that is thrown at it.
This tree is the last tree to have leaves in the spring. It is the last tree to lose it's leaves in the fall. This stands alone.This tree is not protected by the other trees that line the riverbanks.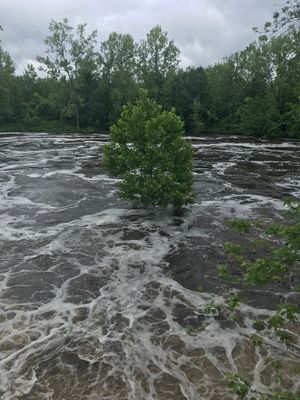 I admit I identify with that. You see... as a musician/artist I stand alone.
I know that as a husband, friend, father, performer and in many other ways I do not stand alone. There is an incredible community of people who have taken care of me. This community has inspired me to strive every day to become a loving, caring and better person. As a musician/artist.....all the artists I have met in my 65+ years I have met and/or heard has influenced me in some way.
When I first started teaching guitar & banjo over 40 years ago I had to learn and accept that no one else processed music the same way I do. I had to learn (and this took a few years) that everyone processes music differently. If I wanted to teach others, I had to accept there were different learners than me. As a hopeful musician/artist I was alone.
I picked and choose my influences and what comes out of that continuous potpourri is me. as an artist/musician I made choices. Some were conscious choices and some not. Out of that entire process I became the musician I am now. 
I had to take those lessons and apply it to my students, as well as my friends and loved ones. I had to implement that lesson to everything in my life. It was a tough lesson for me to learn and accept.
 Sometimes I wonder how did we ever build communities?