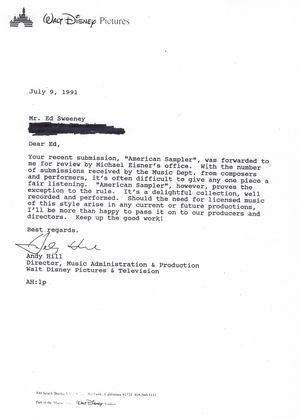 I received an ego boost the other night with the arrival of an email via my website.  The writer had been compiling a list of tracks played at Disneyland's Frontierland between 1992 – 2012 and came across my track The Battle Cry of Freedom. The writer also noted that my track had been released through Walt Disney Records on A Musical History of Disneyland, a box set issued for Disneyland's 50th Anniversary (2005). 
I was asked by the writer if I could share my thoughts on how my recording entered the Disney library. I sent them the letters you can see here. 
I am sorting out a variety of reactions. 
I never knew my version of The Battle Cry of Freedom was being played in Disneyland. I didn't know my arrangement and performance were released on a Disney recording. Someone was diligent in their research and kind enough let me know. 
I admit this feels incredibly cool. I am a huge Disney fan. Every interaction I have had with the Disney organization has been very positive. I am enjoying the fantasy that millions of people walking through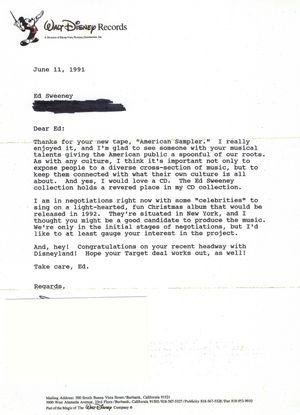 Frontierland in California, Paris and Tokyo have heard snippets of my playing. Fans of Disneyland music, including those who bought the box set, have heard me. 
However, I am not credited anywhere. I am hidden. I know the Disney visitors did not know it was me.  I am not credited on the box set recording. Someone else is! So, I never received any licensing fees or royalties from Disney because I, as the recording artist, was not listed.   
I do not believe this was purposeful. Why would someone let me know what took place over a decade ago and ask me for my thoughts? After forty years of experience in the music industry, I know shit happens. Things like this slip through. 
I wish I had received the credit for my work at the time. Performing/recording artists want to achieve a certain amount of fame. How you get your talents known and recognized by others is not an easy route. 
In addition, musicians' family finances can be precarious. The royalties and licensing fees would have helped. 
But I am in my late 60s. I have limited time, resources, and energy. There isn't anything to be gained by focusing on outrage or wallowing in victimhood.   
What choices do I want to make? 
Steve Jobs said in his commencement address to the graduates of Stanford University in 2005 that you can never connect the dots going forward, you can only connect them looking back.
I choose to work at a never-ending process of being a performer and a recording artist.  I want what I learn and create to be recognized, enjoyed, and remembered. 
My job it to create dots. Maybe someday they'll be connected.