The New Year is the traditional time for reflection.  As I try and map this new year in front of me, this is what I have come to realize over the past few weeks. 
Chance encounters have had a large influence in my life. Many of my chance encounters have had unintended consequences that have given me pause.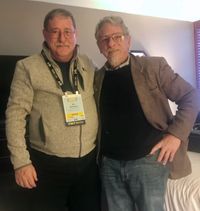 My artistic eyes, ears and heart were changed by a chance encounter when I was a high school teenager. I was a front act to Andy Cohen (http://andycohenmusic.net/) at a coffeehouse at St Anne's Church in Shrewsbury, MA in the early 70's. St. Anne's has a small cemetery in the front of the church.  I thought it was an ominous display at the time. After we each did our sets, Andy took me aside that night. He had watched me play and performed, and said he could tell I wasn't singing and playing music I loved.  Andy was right.  Andy introduced me to fingerpicking guitar, country blues and traditional folk music. 
A chance encounter and someone willing to take a few minutes of their time opened my eyes, ears and heart. 
A decade later I was making my living performing throughout the US & Canada, recording and teaching private students in guitar and 5 string banjo.  
I had a young beginning guitar student Christina Thompson.  Each week I would go to her parent's home to give her a guitar lesson. A challenge for me was how to teach someone how to play an instrument. 
I had to learn (and still have to be reminded) that everyone learns music differently. The intuitive connections I make are not and will not be the same connections that another person will make with an instrument.  
I stopped teaching when my family and I moved to California. Two years later we moved back to the East Coast. 
Several years later I noticed that Christina and her twin sister Meredith were performing throughout New England.  I was curious. 
There was a benefit for the memory of Richard Walton.  I read that many of my old friends were going to be performing. One of the performers listed was saw Christina Thompson Lively.  I decided to re-introduced myself to Christina there. 
In between performances I went up to Christina and said, "Hi, I don't know if you remember me, my name is…." Before I could finish she looked at me, smiled, gave me a hug and said you're Ed Sweeney! I sing because of you! 
Christina told me she always remembered that I told her she should sing. She never sang for me when she was a student. They were words she took to heart.  
I never knew that was the lesson I taught. I was speechless.  I had an influence on someone by my words. 
Tina, a consultant where I used to work,  told me that she wanted to buy copies of my instrumental Christmas Recording.   Tina enjoyed my recording Passing Through and had read about my other recordings. 
Both instrumental Christmas titles were out of print at the time. I told her don't worry, that I would make her copies. 
After Christmas I saw Tina in the office. She told me that my recordings had saved Christmas for her and her family. It had been a tough holiday season. Her and her family found joy in the recordings I had created 20+ years ago. 
One of the lessons I am reminded of this past year is we all give gifts and we all receive gifts. We all have different reasons for each gift we give. We all have different reasons to accept and appreciate the gifts we receive. 
Some of the greatest gifts I have received started by a chance encounter with a musician, teacher, friend or student. 
I learned that my words, actions and music have given gifts that are appreciated and meaningful to others. Even if I did not know it at the time.